The Vari-Vue Bankruptcy & The Tale Of the Flicker Rings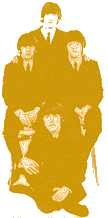 Sold for a few pennies in vending machines, the Beatles Flicker Rings were never expected to become great collectibles 30 years later. New information about the company that produced them (Vari-Vue) is bringing a new light to the tale of the Flicker Rings.


Around 1985, Vari-Vue held an auction at their factory in Mt. Vernon NJ. The auction involved huge quantities ot items in all states of manufacture. Given this, ringbases of different color and flickers with different characters (Looney Tunes characters, Buster Brown...) could be bought from auction-goers. In the 1980's up to the 1990's some Beatles Flicker Rings were sold from different vendors and were long thought to be fakes, but new evidence shows that the flickers themselves might just be originals from the 60's and the ringbases in which they were set could also have been made by Vari-Vue -- but at a much later time in the 80's or even in the 70's.
The theory is that the ringbases and flickers are thought to have been bought separately and glued together.There are very few makers of lenticular plastic in the US today; the die-cut machines to cut sheets into individual flickers are outrageously expensive to make. So if a manufacturer could afford to make fake flickers it would be a very expensive business project. For that reason, it is unlikely that the flickers sold up to this day are fakes.

Nevertheless, the silver-look V-base rings are known to have been made in China in the 1980's, but the flickers are absolutely originals from the 60's. The Vari-Vue marking is not seen on the back of the Beatles Flickers althought many of the flickers (non Beatles Flickers, that is) that were bought from the auction-goers have their name and patent number on the back.

Nobody knows when Vari-Vue stopped manufacturing and it is hard to pinpoint an exact date from the moment of non commercial activities to the auction itself. The Flicker Rings are very desirable items and they are seen from time to time on the well-known auction websites. So before buying, you should take a look at the third edition of the Overstreet Premium Ring Guide which has a good article on plastic rings, including Vari-Vue.
June 1998.