The Heineken Beer Can & Promo Cassette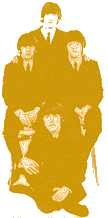 Back in 1987 the London Heineken beer company decided to promote a unique cassette of 12 original Beatles recordings called "Only The Beatles". That's what was printed on the top of the can. The can was available only in England. That was unusual, because the Beatles rarely loaned their name for advertising purposes - especially to beer.
Specially printed cans of Heineken Beer featuring a red triangular banner across the top that said "The Beatles - A Unique Cassette", in white, bold capitals. Around the bottom, the Bealtes' first names, in capitals, in white on a red backgroung, repeatedly circled the entire can. The cans came in two sizes : 275ml and 440ml of beer.
By sending in four special ring pulls from the cans and a crossed postal order or cheque for £2.99 (£2.49 + 50p P&H) made payable to "Heineken Beatles Offer", consumers received a special copy of a unique EMI compilation cassette titled "Only The Beatles" (Parlophone/Stiletto SMMC 151). You could apply as many times as you liked. The offer ended on June 30th 1978.
The tape (Parlophone SMMC 151) included an unreleased stereo version of "This Boy" and "Yes It Is" than came in a special box. On side one featured : Love Me Do, Twist And Shout, She Loves You, This Boy, Eight Days A Week, ALl My Loving. Side two featured : Ticket To Ride, Yes It Is, Od-La-Di-Ob-La-Da, Lucy In The Sky With Diamonds, And I Love Her, Strawberry Fields Forever. The compilation was (P)&© 1986 for Stiletto Limited, 122 Holland Park Avenue, London W11 4UA, with project realisation by Paul Watts (Stiletto) and Norman Bates (EMI).
That was the first and only time that a special packaging of Beatles songs was ever issued for the promotion of a commercial product. There were advertisements produced for daily newspapers and reel-to-reel tape ad's for commercial radio stations.
Unfortunately, it seems that Heineken did not have written permission to do this type of promotion and legal action was taken to have this product out of the market.